When the COVID-19 pandemic abruptly closed campuses, West Georgia Technical College Simulation Lab Specialist Renee Rawlins decided she could get to work sewing masks for local healthcare workers.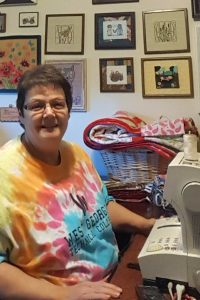 Rawlins started sewing on March 22 with an initial goal of making 100 masks. Between ironing, cutting out, pinning, sewing, pleating and sewing again, each mask takes about 45 minutes to make from start to finish. Since beginning this project, Renee has sewn and distributed 134 masks and will continue to make them as long as supplies are available.
"I have plenty of thread and fabric, but the supply of elastic is running low and hard to come by," Rawlins said. "Karen Carpenter, a retired WGTC business instructor, has donated her stash of elastic, and a few friends have found elastic online and are having it shipped directly to me to help me keep going."
With help from WGTC practical nursing instructor, Tara Alsobrook, Rawlins's masks have been delivered to Tanner Medical Center/Carrollton, WellStar LaGrange, and Piedmont Newnan hospitals, all main clinical sites for WGTC's nursing program. Rawlins specifically chose to donate the masks to these locations as a way of thanking them for their ongoing support of WGTC.
As more masks are completed, they will be sent to the hospitals as well as local doctors' offices that need them. Rawlins has also received requests to make masks for Cancer Treatment Centers of America in Newnan and for ER patients at Piedmont Hospital to help preserve supplies of PPE masks for hospital employees. She is hoping to be able to fulfill those requests when she gets more elastic.
As the Health Science Simulation Lab Specialist at WGTC, Rawlins provides student training in health simulation labs on WGTC campuses. Labs include the same advanced equipment used in local hospitals and other medical facilities and are also outfitted with high fidelity human patient simulators to give students hands-on experience before they interact with real patients.
This direct contact with medical educators and students gives Rawlins a unique insight into the value of nurses and other healthcare workers, especially at times like this.
"They are fighting for all of our lives quite literally, and I just want to help and make a positive impact," Rawlins said. "I can't do what the nurses and other healthcare workers do, but I can make masks to help support them in their fight, and the more we protect them, the better off we are all going to be."
West Georgia Technical College, with campuses in Carroll, Coweta, Douglas, Haralson and Troup counties and class sites in Heard and Meriwether counties, offers more than 120 associate degree, diploma and technical certificate programs of study. A unit of the Technical College System of Georgia, West Georgia Tech is one of the largest of the state's 22 technical colleges. For more information, please visit www.westgatech.edu.