Holiday Project CARE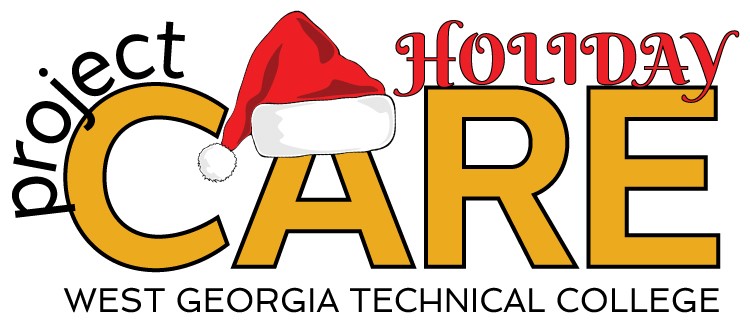 Holiday Project CARE, presented by the WGTC Foundation.
Holiday Project Care provides funding assistance during the Holiday season to current employees and students.
Timeline
Application Season Begins: November 12, 2021
Application Season Ends: December 6, 2021
Awards Notification By: December 16, 2021
*All awarded funds will be mailed to applicants, please ensure your address is correct on the application
Purpose and Scope
The purpose of Holiday Project CARE is to provide financial assistance including food assistance to students and employees of West Georgia Technical College who are in need of assistance during the Holiday season. Holiday Project CARE is funded by the WGTC Foundation and employee contributions.
• The financial assistance (stipend) will be based on the funding availability and will be offered to current students and employees of the college including adult and technical education programs.
• Holiday Project CARE will only be open during the holiday season (dates vary from year-to-year) and is separate from Project CARE Emergency Fund Grant that is an as-needed funding   available throughout the rest of the year. (see bottom of the page for contact information related to Project CARE Emergency Fund Grant)
• The Foundation will supplement applicants requesting food assistance with grocery store gift cards.
ELIGIBILITY REQUIREMENTS
1. A legal resident of the United States.
2. Must be a current student or employee of West Georgia Technical College (will be required to upload image of ID during completion of application).
3. W9 must be completed and uploaded during completion of application.
All current students and employees are encouraged to apply. Send all questions to wgtcprojectcare@westgatech.edu
To apply for the Holiday Project CARE, go to https://wgtcfoundationprojectcare1.awardspring.com.
• Create an account
• Complete application
• Complete W9 and upload
• Upload image of current employee/student ID
*If ID and W9 is not completed applicant will be ineligible for funds.
The Foundation reserves the right to amend the application at any time.
The review committee will be comprised of foundation member(s), senior leadership, and employees. The recommendation will then go through the standard funding approval process per the Foundation Board of Trustees. The Foundation Board will vote on the amount of money to budget for awards on a yearly basis.
CONFIDENTIALITY
Your application is strictly confidential and the reviewing committee can only see your answers to the questions. All personal information including copy of ID and W9 will not be seen by any committee members.
If you have questions about the emergency funds please email wgtcprojectcare@westgatech.edu or contact Dawn Goins at Dawn.Goins@westgatech.edu or Brittney Henderson at Brittney.Henderson@westgatech.edu.
NOTIFICATION OF AWARDS
You will be notified of your award or denial via the e-mail you provide in the application.

Please send any questions you may have to wgtcprojectcare@westgatech.edu.