CARROLLTON, GA., JULY 20, 2022 – West Georgia Technical College is pleased to announce a ribbon cutting celebration for the new Carroll campus.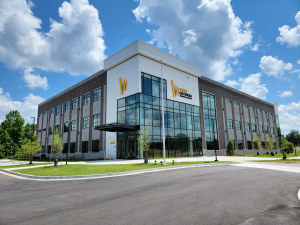 The celebration will take place at 10:30 a.m. on Thursday, August 11, 2022 at 500 Technology Parkway, Carrollton, GA.
"The transition from over 50 years of history evolving from the original Carroll Tech to celebrating a bright, high-tech future at West Georgia Tech, in this amazing new $66 million-dollar campus, is nothing short of amazing," said WGTC president Dr. Julie Post.
The new campus will include four buildings totaling almost 150,000 square feet and will replace the campus that has served Carroll county since 1968.
Members of the public are invited to attend the celebration. Campus tours will follow after the ceremony.
"We cannot wait to share our new home with all the community members and business partners we serve, and celebrate the excitement that has been building since Governor Kemp and the legislature generously approved funding for this project."
West Georgia Technical College, with campuses in Carroll, Coweta, Douglas, Haralson and Troup counties and class sites in Heard and Meriwether counties, offer more than 120 associate degree, diploma and technical certificate programs of study. A unit of the Technical College System of Georgia, West Georgia Tech is one of the largest of the state's 22 technical colleges. For more information, please visit westgatech.edu.