After offering a Pharmacy Assistant certificate for several years, West Georgia Technical College is expanding the program to offer an associate degree and diploma in Pharmacy Technology beginning in Spring Semester 2019.
All three credentials are designed to prepare graduates to work in hospitals, retail pharmacies, clinics and other healthcare settings that prepare and dispense medication.
"The Pharmacy Technology degree and diploma programs provide students with a pathway to further their education and opportunities to advance their career in pharmacy," Pharmacy Technology Program Director Michelle Hill said. "Our certificate graduates have asked us to provide additional coursework and higher-level credentials to help them advance in their careers."
West Georgia Tech offers the Pharmacy Technology program on its Douglas Campus. To facilitate the expansion, WGTC is investing about $225,000 to relocate the Pharmacy Technology program to a newly renovated suite with state of the art equipment and design, including three dedicated rooms for laboratory and active learning experiences. The funding was provided through the Technical College System of Georgia's World Class Lab funds.
The curriculum for the diploma and degree prepares students for entry level employment in retail or hospital-based pharmacy department by providing hybrid and on-campus courses in advanced pharmacy technology principles and advanced practicum opportunities. Students progress through the program as a cohort, bridging networking, community, and collaboration opportunities.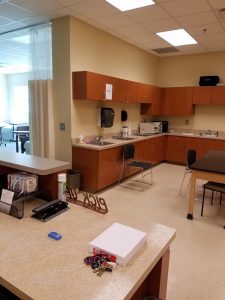 Currently many of the certificate students are dual enrolled Douglas County high school students. The expansion will give them opportunity to further their Pharmacy Technology education in high school and also will provide a local opportunity to continue college coursework after high school graduation, Hill said.
"It gives us great pride to be able to expand our pharmacy program offerings, Dr. Naquilla Thomas, Dean of Health Sciences, said. "By doing so, we continue to cultivate our commitment to impact the lives of our students."
According to glassdoor.com, Pharmacy Technicians rank third for jobs that saw the highest increase in salary in 2018. Additionally, the U.S. Bureau of Labor and Statistics predicts 12 percent growth in Pharmacy Technology jobs from 2016 to 2026, which is faster than the average for all occupations.
To learn more about the Pharmacy Technology program, please contact Michelle Hill, michelle.hill@westgatech.edu or 770.947.7332 or the Office of Admissions at admissions@westgatech.edu or 844.280.0100.
West Georgia Technical College, with campuses in Carroll, Coweta, Douglas, Haralson and Troup counties and class sites in Heard and Meriwether counties, offers more than 120 associate degree, diploma and technical certificate programs of study. A unit of the Technical College System of Georgia, West Georgia Tech is one of the largest of the state's 22 technical colleges. For more information, please visit www.westgatech.edu.