One West Georgia Technical College alumnus has turned his degree into a way to give back both as an instructor and a supporter of the WGTC Foundation.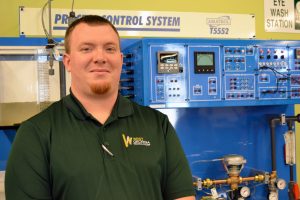 Russell Yeatman started welding classes in 2010 but took a break for a while when life got in the way. In 2016, while working for a manufacturing company, Yeatman was encouraged by his then employer to go back to school and take a few classes to further his training. He enjoyed the classes so much that he made the decision to continue his education, and in 2018, Yeatman graduated from WGTC with an Associate Degree in Precision Manufacturing and Maintenance.
Yeatman credits his instructors – Jim Biagi, John Callaway, Kel Anderson and Richard Hickmon – for his success.
"Being a full-time student was a struggle at times," Yeatman said. "I was taking five or six classes each semester while still working, my wife was working, and we had two kids, so trying to balance everything was definitely challenging, but I had so much support from my instructors the entire time. They were willing to do whatever they could to help me succeed. 'Can't' is a word that is not allowed at West Georgia Tech."
As an alumnus of WGTC, Yeatman is adamant about giving back to his alma mater by donating to the WGTC Foundation. In his last semester, Yeatman realized he was unable to receive the HOPE Grant any longer. He found WGTC Foundation scholarships, applied, and received the Manufacturers Education Foundation Scholarship which helped cover his tuition and books.
"I wasn't prepared to cover all of the cost of my last semester so it was a big relief to get that scholarship," Yeatman said. "It's so important to donate to the WGTC Foundation because of students like me who need that extra help to finish what we started."
The Manufacturer Education Foundation has been a steadfast supporter of WGTC and its students, WGTC Foundation Executive Director Kelsey Jones said.
"The Georgia Association of Manufacturers and its Manufacturers Education Foundation are honored to be a part of what West Georgia Technical College is doing – supporting students like Russell Yeatman and developing the talent that manufacturers like GAM member Pratt & Whitney need to be successful. Congratulations to all involved in this effort," G.L. Bowen III, President of the Georgia Association of Manufacturers, said.
Since graduating, Yeatman's story has come full circle. In addition to his job at Pratt & Whitney, he has joined WGTC as a part-time instructor in the Precision Manufacturing and Maintenance program.
"I could teach full-time if I wanted, but I really like working in the field, too," Yeatman said. "The industry changes so much, and I can use my personal work experience to give students real life scenarios in the lab so they're better prepared when they leave here."
With 10 years of industry experience to share, Yeatman now has the opportunity to give back to students who were in the same shoes he was in.
"Not every student walks in here and immediately loves this program, but when you see a student finally get interested in what you're teaching and it clicks, it's an amazing feeling."
West Georgia Technical College, with campuses in Carroll, Coweta, Douglas, Haralson and Troup counties and class sites in Heard and Meriwether counties, offers more than 120 associate degree, diploma and technical certificate programs of study. A unit of the Technical College System of Georgia, West Georgia Tech is one of the largest of the state's 22 technical colleges. For more information, please visit westgatech.edu.