West Georgia Tech Celebrates Summer Commencement
CARROLLTON, Ga., August 3 – West Georgia Technical College (WGTC) celebrated summer commencement exercises August 2, awarding over 150 associate degrees and technical diplomas to graduates across West Georgia.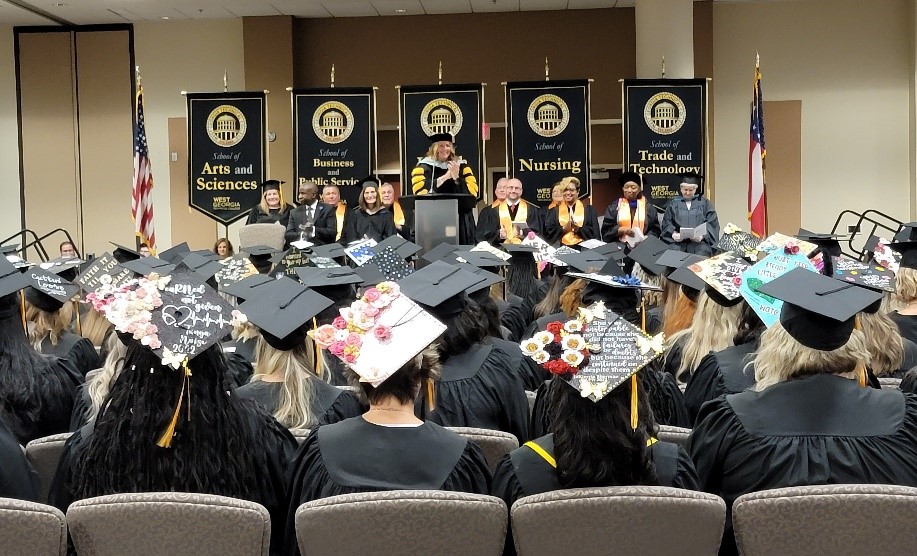 Georgia Power Area Manager Patrick Harris delivered the keynote address, encouraging graduates to keep learning and working hard even after graduation.
"Don't let this be the end," Harris said. "Even though today's graduation represents your last stop on this educational journey, don't let it be your last stop in learning. The key to your success is being willing to put in the hard work and have the mindset to go above and beyond."
Harris earned a B.S. in Mathematics from Fort Valley State University and a B.S. in Electrical Engineering from the University of Nevada, Las Vegas. He obtained a M.S. in Electrical Engineering from the University of North Carolina at Charlotte, and he is currently pursuing his MBA from the University of Illinois-Urbana Champaign.
In addition to his role as Area Manager, Harris is the statewide second Vice President of the Citizen of Georgia Power volunteer organization. He has served as Georgia Power's chair for the American Heart Association Heart Walk and the Relay for Life events. Currently, Harris serves on the chamber board for the Carroll, Haralson and Polk County Chambers of Commerce, and as a co-chair of the Kappa Youth Leadership League.
WGTC President Dr. Julie Post closed the ceremony by asking the graduates to take a moment to celebrate their families and friends in the audience.
"Before we dismiss for the evening, I want you to give a round of applause to your supporters – your children, your parents, your grandparents, your friends – in this room for helping you on this journey," Post said. "Without their support, this night may not have been possible."
The ceremony was held at the Conference Center of WGTC's Murphy Campus in Waco to accommodate students and families from all seven counties of WGTC's service area. For those who were unable to attend in person, a recording of the ceremony can be viewed on the West Georgia Tech YouTube page, here: https://youtu.be/bxRWf5kEBXk
West Georgia Technical College, with campuses in Carroll, Coweta, Douglas, Haralson and Troup counties and class sites in Heard and Meriwether counties, offers more than 120 associate degree, diploma and technical certificate programs of study. A unit of the Technical College System of Georgia, West Georgia Tech is one of the largest of the state's 22 technical colleges. For more information, please visit westgatech.edu.
WGTC Holds First High School Equivalency Graduation Ceremony in Four Years
CARROLLTON, GA., August 3, 2022 – On July 28, West Georgia Technical College (WGTC) held its first  High School Equivalency ()HSE) graduation ceremony since 2018. Students who earned their GED® or HiSET diplomas between 2019 and 2022 were invited to attend.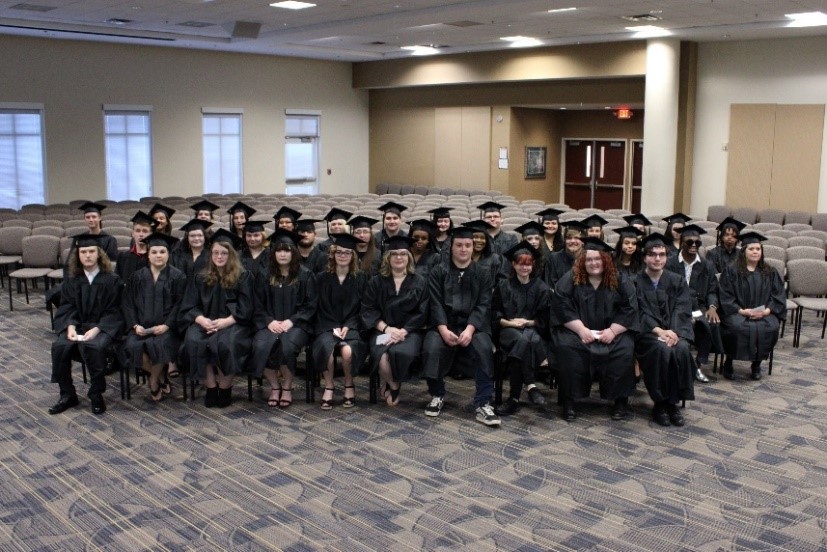 The ceremony was held at the Conference Center on WGTC's Murphy Campus in Waco to accommodate students and families from all seven counties of WGTC's service area.
Despite having earned their diplomas as far back as three years ago, fifty students returned to WGTC to celebrate their accomplishments.
"The pandemic forced us to eliminate graduation for a couple of years so we wanted to give those students who did not get to have a traditional graduation ceremony the chance to experience one," Angela Berch, Vice President of Economic Development and Community Relations, said. "We are honored that each graduate made the effort to return and participate. It was exciting to speak with our graduates and learn about their paths since obtaining their high school equivalency."
Michael Sullivan, President and CEO of ACEC Georgia, was the guest speaker at the event. Sullivan serves on the Georgia Chamber of Commerce Board of Governors and previously served as a member of the State Board of the Technical College System of Georgia.
In his speech, Sullivan reminded the students to continue to keep going by building on what they have already achieved and to not be discouraged by other peoples' timelines.
"Life throws us all curveballs, setbacks, and challenges that seem too much to bear sometimes," Sullivan said. "I'm guessing each of you had some of those to overcome to get here tonight, but you got here. The same determination and drive that got you here, will get you there – wherever you want to go next – so dream big. You can do anything you set your mind to."
Anastasia DuRant, a 2021 HSE graduate, shared about the many obstacles she overcame to obtain her high school equivalency. She is now a student at WGTC and will graduate in December 2022 with a cosmetology diploma.
"I would like to encourage each and every one of you to pursue your dreams," DuRant said. "You have given all of your time, effort and tears…this is your time to shine. You have definitely earned this, and I am proud of you. Congratulations and good luck with wherever life may lead you."
Listed are the WGTC High School Equivalency graduates who participated in the graduation ceremony:
Katelyn Agan, 2021
Kathryn Alexander, 2022
Hailey Arnold, 2021
Keila Avila Castro, 2022
Mackenzie Austin, 2019
Kendall Baldree, 2022
Jacob Blair, 2021
Tristan Callahan, 2022
Jacob Clevenger, 2022
Angela Crittendon, 2021
Trent Coker, 2021
James Deveau, 2021
Anastasia DuRant, 2021
Beautiful Forbes, 2020
Mya Cheyanne Gadlin, 2022
Venus Gaines, 2022
Kayla Gantt, 2022
Stephanie Gay, 2021
Raven Greene, 2021
Lisa Grimshaw, 2020
Spencer Haberkam, 2022
Tracy Hall, 2022
Brandon Hampton, 2022
Natechur Holmes, 2022
Jamie Hudgens, 2022
Tevya Hurley, 2022
Jarrett Johnson, 2021
Katelyn Lingerfelt, 2021
Jameka Mathews, 2022
Erych Munoz, 2022
Ashley Watkins North, 2022
Allison Nutt, 2022
Camden Page, 2021
Hailey Poe, 2022
Kaylee Powell, 2022
Avery Rayburn, 2022
Emily Rice, 2022
Otis Robbs, 2022
Emily Sargent, 2022
Raven Skipper, 2021
Chastity Slocum, 2022
Marci Steadham, 2022
Dania Tittle, 2022
Robert Valentine, 2022
Kaitlyn Vanwinkle, 2022
Mason Vaughn, 2022
Alicia Veal, 2022
Aylisha Walters, 2022
Kenneth Ware, 2022
John Wilson, 2021
For more information about the Adult Education High School Equivalency classes, visit www.westgatech.edu/adult-education.