LaGrange, Ga., March 1, 2023 – West Georgia Technical College (WGTC) recently welcomed Delta's Ground Support Equipment (Delta GSE) division to LaGrange to celebrate the next phase of their ongoing partnership and to meet Troup County community leaders.
WGTC and Delta GSE announced their initial partnership in early 2022 after the College was selected to provide assessments for Delta GSE employees. Since then, WGTC Precision Manufacturing and Maintenance instructors have performed skills gap assessments on over 650 existing Delta GSE employees across the U.S.
In phase two of the partnership, Delta GSE employees will travel to WGTC's Regional Workforce Training Center in LaGrange where they will receive customized training from WGTC instructors in the areas of mechanical systems, electrical systems, motor controls, programmable logic control systems and hydraulic systems. Training will continue into 2024.
"After assessing Delta's employees, we were able to design an accelerated training program to enable those employees to become more proficient in their highly technical roles at Delta GSE," said WGTC Assistant VP of Economic Development, Steve Cromer. "This WGTC and Delta partnership will ensure a well prepared and better equipped workforce in the short term and for years to come."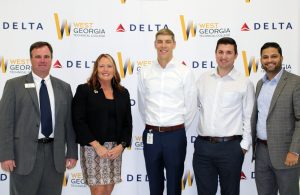 Delta GSE employees work behind the scenes to help keep Delta's global airline operation running smoothly by performing preventive maintenance and repairs for the huge fleet of vehicles and equipment responsible for things such as refueling and towing airplanes, luggage conveyor belt
systems, de-icing airplanes and transporting passengers.
"We are truly honored to be tasked with training Delta GSE employees and excited to welcome them to LaGrange," said WGTC president Dr. Julie Post. "This partnership allows us to provide pathways for these employees to grow professionally and reinforces our reputation as a premier provider of skilled employees with advanced technical training."
WGTC's Economic Development division provides essential assistance and training to clients that want to achieve maximum results and efficiencies by building relationships with regional businesses and industries to make sure that they have access to exceptional training for their employees that is customized to their needs.
For more information on how your company can utilize assessments and workforce training, contact Steve Cromer at steve.cromer@westgatech.edu.
West Georgia Technical College, with campuses in Carroll, Coweta, Douglas, Haralson, and Troup counties and class sites in Heard and Meriwether counties, offers more than 120 associate degree, diploma, and technical certificate programs of study. A unit of the Technical College System of Georgia, West Georgia Tech is one of the largest of the state's 22 technical colleges. For more information, please visit westgatech.edu.