Dual Enrollment
Double the Credit!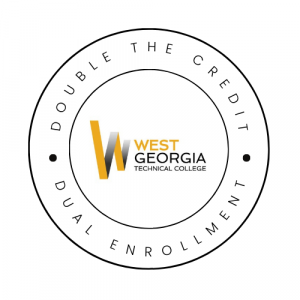 The Dual Enrollment program at West Georgia Technical College provides an opportunity for high school students to enroll in college courses while still in high school to earn credit for both high school courses and college courses simultaneously.
Students may take courses on a WGTC campus or site, online, or at their high school. Course are available for Fall, Spring and Summer semesters. The State of Georgia allows students 30 hours of dual enrollment eligibility.
Dual Enrollment may be pursued in the following ways:
Traditional Dual Enrollment
Students take courses on a WGTC campus or online. Academic core and occupational courses are available.
Concurrent Enrollment
Students take WGTC courses at their high school. Courses vary by high school. Students should contact their high school counselors to learn what courses are available at their high school.
Accelerated Career Pathways
Students can complete 9 required high school courses and 2 technical certificates of credit, a diploma or associate degree at WGTC and graduate high school under an accelerated path. This option is recommended for students who have a technical focus and do not intend to initially purse a four-year university degree. WGTC Accelerated Career Opportunities. Students interested in this option should contact their high school counselor.

Benefits of Dual Enrollment
Dual credit means cost-saving for families. Students can take advantage of dual enrollment funding for up to 30 hours of coursework, potentially completing a year of college courses before high school graduation.
Taking dual credit courses lessens the time needed to earn a post-secondary credential after high school graduation. If a student uses their full 30 hours of eligibility that is equivalent of one year of college courses.
Dual Enrollment provides students access to courses and subjects not offered at their high schools. Students can broaden their academic exposure by accessing courses not available at their high schools. Dual courses provide heightened academic rigor from high school courses, which may help students stay engaged in learning.
Career exploration is a great tool for helping students gain an understanding of the demands and skills needed for their intended profession. Dual enrollment offers students opportunity to explore careers in many occupational areas.
Dual courses can aid students in the transition from high school student to college students. Dual enrollment course ARE college courses. Taking a few dual courses can assist students in adjusting to the rigor of college courses.