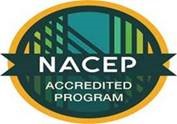 NACEP
The Dual Enrollment Program at West Georgia Technical College is accredited by the National Alliance of Concurrent Enrollment Partnerships (NACEP).
NACEP requires partner educational institutions to maintain rigorous accreditation standards to ensure the best student experiences and outcomes. Standards address program competencies, instructor credentials and training, pedagogical, theoretical, and philosophical orientations of curriculum, on-going program evaluations and assessments, and educational partnerships with local school systems.
West Georgia Technical College's affiliation with NACEP affirms the quality of the coursework available at WGTC for dual enrolled students. WGTC's NACEP Accreditation is granted through the 2026-2027 school year, and is renewable quinquennially.