Admissions
Whether you are looking to advance in your current job or gain the skills for an entirely new career field, West Georgia Tech offers more than 120 associate degree, diploma and technical certificate programs of study that prepare you to be "Technically the Best"!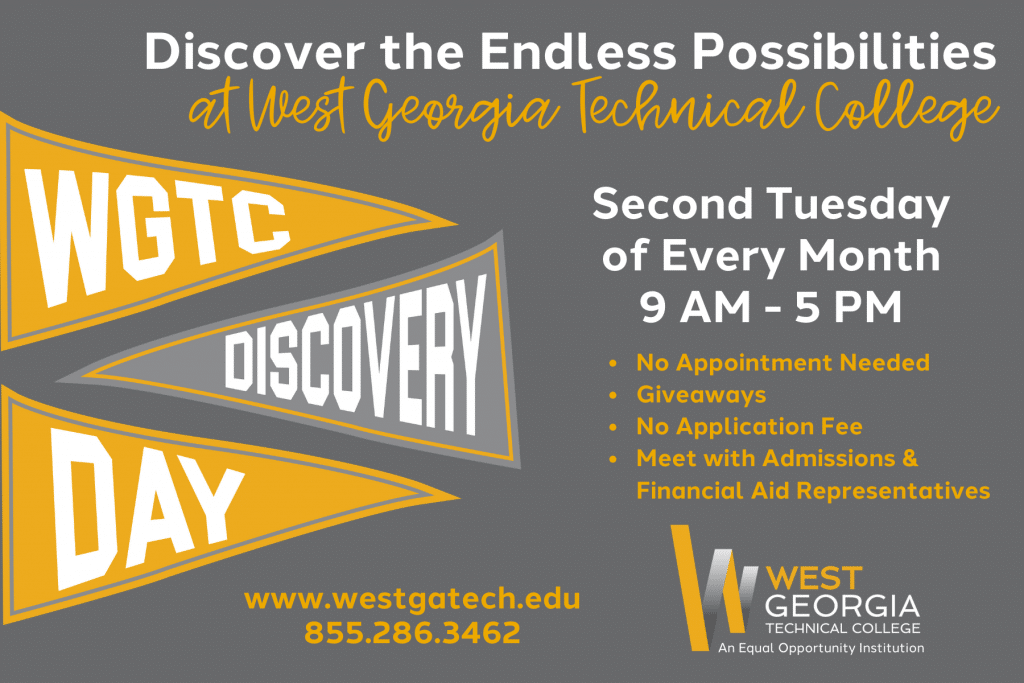 At West Georgia Tech, the focus is on student success and workforce development that enhances our communities. We offer flexible class schedules, multiple campus locations, online courses, and the latest in technology to provide our students a superior learning environment.
As set forth in its student catalog, West Georgia Technical College does not discriminate on the basis of race, color, creed, national or ethnic origin, sex, religion, disability, age, political affiliation or belief, genetic information, disabled veteran, veteran of the Vietnam Era, spouse of military member, or citizenship status (except in those special circumstances permitted or mandated by law).
The following persons have been designated to handle inquiries regarding the non-discrimination policies: Equity (Title IX) Coordinator, Dean of Students, 770.537.5722, 176 Murphy Campus Blvd., Waco, GA 30182. ADA (Section 504) Coordinator for Students: Career and Student Support Services Manager, 770.824.5245, 176 Murphy Campus Blvd., Waco, GA 30182, for Employees: Human Resources Manager, 770.537.6056, 176 Murphy Campus Blvd., Waco, GA 30182.
Contact Admissions Department
Text Your Admissions Counselor
Email: admissions@westgatech.edu
Phone: 855.286.3462
Learn More
Career Services Wage and Occupation Information
Priority Dates
Check the priority date deadlines below.