Library Information
Welcome to the West Georgia Technical College Library. With libraries at our Carroll, Douglas, LaGrange, Murphy and Coweta campuses, our libraries function as a research center for students, faculty, staff and community users. Our collection, emphasizing technical training, supports the curriculum and meets the information needs of our users through printed and electronic formats.
Please take a moment to take our WGTC Library Services Survey.  Your responses will help us improve library services for all West Georgia Technical College students.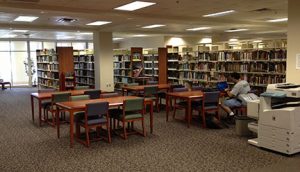 West Georgia Technical College currently has five campus libraries: the Roger Schoerner Library (Carroll Campus), Douglas, LaGrange, Coweta and Thomas B. Murphy Campus. The Carroll Campus Library is 3,697 square feet; Coweta Campus Library 4,480 square feet; Douglas Campus Library 2,280 square feet; LaGrange Campus Library 14,300 square feet; and Murphy Campus Library 3,700 square feet. The collection of each site will consists of books, periodicals, newspaper, videos, audio cassettes, software and other types of multimedia and electronic reference resources (respective of curricula and service needs). A daily courier service exists, allowing for timely exchange of materials between sites.
Each site houses a computer lab, offering software applications reflecting the curricula. Together, WGTC libraries share a collective vision of creating a leading model of the "virtual" library. The commitment to open access for resources, service and information needs is met by combining on-site collections of current materials in print and electronic form, along with remote access to the contents and services of the worldwide library and information resources.
West Georgia Technical College acquires current, authoritative and relevant materials and journals that support the student learning outcomes for all instructional areas and academic departments at the degree, diploma, and certificate level. Emphasis is also placed on acquiring materials and providing services to ensure availability of adequate resources that directly support the general education programs. In acquiring new materials, the WGTC Library includes the continuing education and personal enrichment needs and interests of student, faculty, staff and public users.
All libraries are open during semesters from 8:00 A.M. to 7:00 P.M., Monday through Thursday.
All libraries, except for Murphy Campus, are open 8:00 to 12:00 on Friday.  Murphy is closed on Friday.
Between semesters, the libraries are open 8:00 A.M. to 5:30 P.M.
Copyright Policy
As a system devoted to providing the highest quality undergraduate and graduate education to students; pursuing leading-edge basic and applied research, scholarly inquiry, and creative endeavors; and bringing intellectual resources to the citizenry, the University System of Georgia is committed to respecting the rights of copyright holders and complying with copyright law. The University System of Georgia recognizes that the exclusive rights of copyright holders are balanced by limitations on those rights under federal copyright law, including the right to make a fair use of copyrighted materials and the right to perform or display works in the course of face-to-face teaching activities.
The University System of Georgia facilitates compliance with copyright law and, where appropriate, the exercise in good faith of full fair use rights by faculty and staff in teaching, research, and service activities. Specifically, the University System of Georgia
informs and educates students, faculty, and staff about copyright law, including the limited exclusive rights of copyright holders as set forth in 17 U.S.C. § 106, the application of the four fair use factors in 17 U.S.C. § 107, and other copyright exceptions;
develops and makes available tools and resources for faculty and staff to assist in determining copyright status and ownership and determining whether use of a work in a specific situation would be a fair use and, therefore, not an infringement under copyright law;
facilitates use of materials currently licensed by the University System of Georgia and provides information on licensing of third-party materials by the University System; and
identifies individuals at the University System and member institutions who can counsel faculty and staff regarding application of copyright law. *