Black Tie & Boots is the WGTC Foundation's annual signature event. Celebrating its 18th year in 2019, Black Tie & Boots offers guests an exclusive opportunity to see some of country's biggest artists in an intimate indoor setting.
This year's concert features Craig Morgan who has dominated the country music airwaves since the early 2000s. With 25 charted songs on Billboard and a member of the Grand Ole Opry since 2008, Morgan is a superstar in his own right. As a veteran of the U.S. Army, Morgan continues to give back to the armed forces and has been awarded the Army's Outstanding Civilian Service Medal.
With artists like Wynonna, Blake Shelton, Little Big Town, Tracy Lawrence, Kellie Pickler, and more taking the stage over the many years, Black Tie & Boots has proved to be an unforgettable event!
Black Tie & Boots 2018 Photo Gallery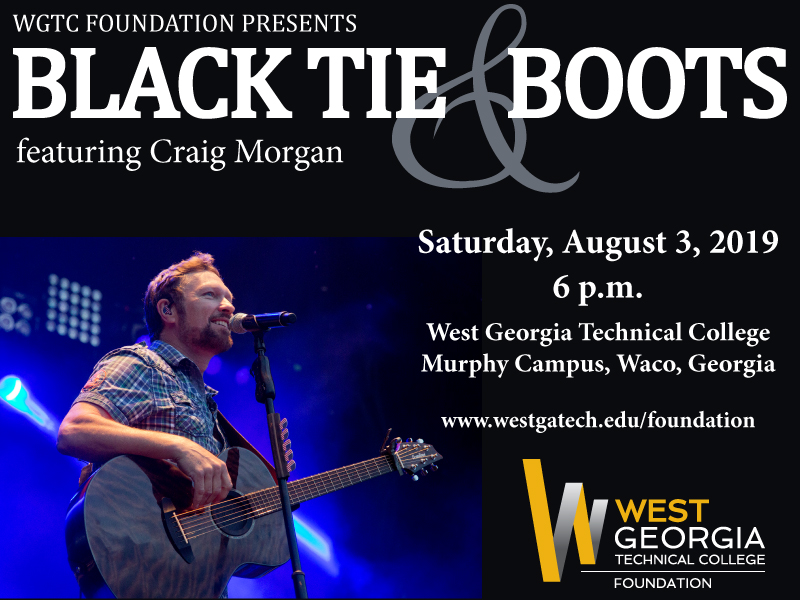 Interested in becoming a partner in this event? Please contact Kelsey Jones at kelsey.jones@westgatech.edu.
Black Tie and Boots Partner Booklet
Black Tie and Boots Partner Commitment Form
Black Tie and Boots Partner Letter
Spirit of Giving Award
The Spirit of Giving Award is a highlight of Black Tie & Boots, offering the college and the community an opportunity to acknowledge and thank an outstanding individual, family, or business for their exceptional contributions. The 2018 Spirit of Giving Award honored the J. Randy Jackson Family who has established an endowed scholarship at West Georgia Technical College in memory of J. Randy Jackson.