Project CARE
Project CARE, presented by the WGTC Foundation, provides emergency funding assistance throughout the year to faculty, staff, and students.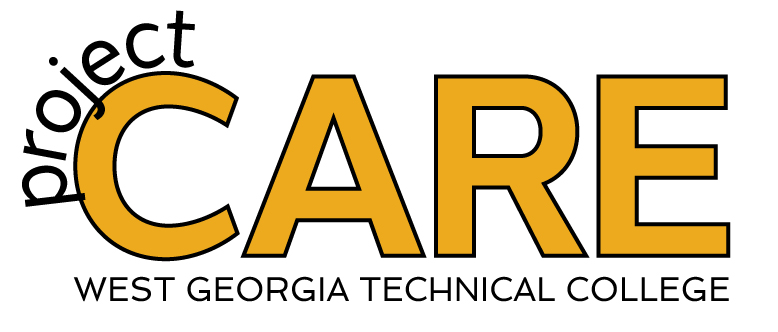 Timeline
TBA
Purpose and Scope
The purpose of Project CARE is to provide financial assistance and/or food pantry assistance to students and employees of West Georgia Technical College who are in need of assistance. Project CARE is funded by the WGTC Foundation.
The financial assistance (stipend) will be based on the funding availability and will be offered to current students and employees in both adult and technical education programs.
Project CARE will have an open application during the holiday season (approximately October-November) and will have as-needed funding available throughout the rest of the year. Project CARE funding will be allocated per the Foundation's budgeted Project CARE program expense. The Project CARE budget will allocate 70% of its budget to the open application season and the remaining 30% of its budget to as-needed funding throughout the year. The yearly budget will be determined and approved by the Foundation Board of Trustees.
Food pantry assistance will be made available through the open application season, as resources are available. Excess food pantry assistance that remains unclaimed after the designated award time can be distributed to local charities.
ELIGIBILITY REQUIREMENTS
A legal resident of the United States.
Must be a current student or employee of West Georgia Technical College (will be required to show student ID and enrollment will be verified).
May only receive funding once every two open application cycles. For instance, for awards received 2020, another award will not be available again until 2022.
Food pantry assistance may be received once per year. For instance, for assistance received in 2020, assistance will not be available again until 2021.
Funds awarded based on a Committee review and recommendation to the Board of Trustees and until funds are depleted.
The application for financial assistance and food pantry assistance will be available electronically via the WGTC website. The Foundation reserves the right to amend the application at any time.
Project CARE Committee will be comprised of 1 member of senior leadership, 2 staff members, and 1 faculty member of WGTC. The Committee will review the applications and recommend those students and employees who receive assistance through Project CARE. The recommendation will then go through the standard funding approval process per the Foundation Board of Trustees. The Foundation Board will vote on the amount of money to budget for awards on a yearly basis.
The Foundation office will issue checks in November and they will be sent to the campuses on which the students or employees are located. The student or employee will be required to show ID and fill out a W-9 in order to pick up their check.
CONFIDENTIALITY
Your application and its contents are reviewed by a Project CARE Committee comprised of faculty and staff. Your application is then recommended to the Foundation Board of Trustees for approval. Your application and its contents are kept strictly confidential. Should you be contacted by the WGTC Foundation and are interested in sharing your Project CARE story for marketing or publication purposes, you will need to give your written approval for said use; otherwise all information is assumed to be confidential.
NOTIFICATION OF AWARDS
You will be notified via the e-mail address you provide below of your award acceptance or denial.
When you are ready to begin your application, select the button below.
Please send any questions you may have to wgtcprojectcare@westgatech.edu.