Student Life
Student Life is excited to offer our first annual "Cultural Enrichment Experience"! We're heading to the Birmingham Civil Rights Institute in February and we'd love you to join us! To join, fill out the field trip form.
All students must pay their $10 deposit to a cashier on a campus near them and fill out their registration form no later than NOON on Feb 7, 2020. Questions? Contact Student life at studentlife@westgatech.edu, or call 770-537-6007. There are limited spots so be sure to secure yours ASAP!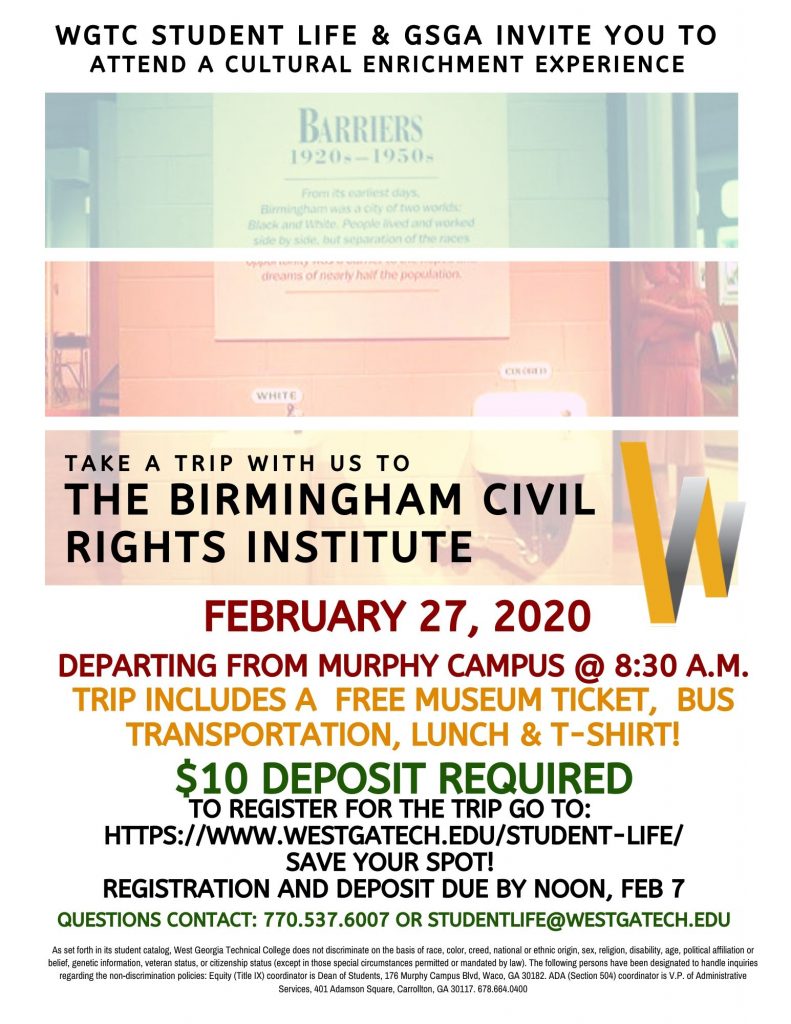 The Office of Student Life works directly with the Student Government Association, several student organizations and other members of the college and community to develop and implement social, educational and community-oriented programs for the West Georgia Technical College students, faculty, staff, alumni and community members.
The Office of Student Life is committed to the character and social development of our students.  The office strives to provide leadership opportunities for students that enrich their experiences here at West Georgia Technical College.
Feel free to contact us anytime with questions, comments, or concerns:
West Georgia Technical College
Office of Student Life
176 Murphy Campus Blvd
Waco, GA 30182
Phone: 770-537-5722
Email: studentlife@westgatech.edu
Office Location: Murphy Campus, Building: Student Services, Room: 1156A