CARROLLTON, GA., December 6, 2022 – West Georgia Technical College (WGTC) has named Abby House, a Medical Laboratory Technology student from Whitesburg, Georgia as its 2023 Georgia Occupational Award of Leadership (GOAL) winner.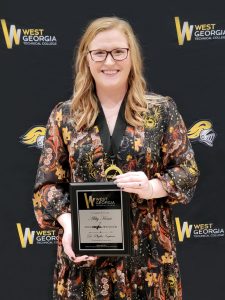 The announcement was made on November 29 at WGTC's GOAL and Rick Perkins Award (RPA) Banquet, an annual event that celebrates the finalists for both awards.
"West Georgia Technical College is proud to have Abby as our GOAL student for the year of 2023," said Dr. Julie Post, President of West Georgia Technical College. "Abby's personal story shows resilience, determination, persistence and true passion. We are confident that she will represent us well in the GOAL region and state competitions as an advocate for technical education throughout her experiences at West Georgia Tech."
GOAL, first launched in 1971, is a statewide program of the Technical College System of Georgia (TCSG) that honors excellence in academics and leadership among the state's technical college students. Local GOAL winners are selected at each of the state's 22 technical colleges.
"Every year our faculty are asked to nominate their best and brightest students to represent WGTC on a regional and state level," said GOAL coordinator and Dean of Students Melinda Hofius. "Abby will be an excellent representative for WGTC and I can't wait for everyone to hear her impactful story."
House, nominated by Medical Laboratory Technology Program Chair Dr. Phyllis Ingham, was chosen by a panel of local leaders over three other finalists for the award. The other finalists were Erica Brewer an Engineering student, and Morgan Whipple and Melinda White, both Registered Nursing students.
As an ambassador for technical education, House looks forward to sharing how it has impacted her life.
"Before this program, I was lost," House said. "Now I am excited about my future knowing that I am making a difference. I want to share my story to help encourage others to not give up but to keep pushing to reach their goals because second chances are just one opportunity away."
House will compete against winners from other Georgia technical colleges at the regional competition on March 7, 2023, and if selected as a regional finalist, will participate in the state competition in April 2023. A panel of leaders from the business, industry, and government sectors will interview the finalists and choose one to be the 2023 State GOAL Winner, TCSG's Student of the Year, and the recipient of the GOAL medallion and a brand-new car courtesy of KIA, the statewide corporate sponsor of the GOAL program.
West Georgia Technical College, with campuses in Carroll, Coweta, Douglas, Haralson and Troup counties and class sites in Heard and Meriwether counties, offers more than 120 associate degree, diploma and technical certificate programs of study. A unit of the Technical College System of Georgia, West Georgia Tech is one of the largest of the state's 22 technical colleges. For more information, please visit www.westgatech.edu.