CARROLLTON, GA., December 16, 2022 – West Georgia Technical College (WGTC) celebrated fall commencement exercises on December 15, awarding over two hundred associate degrees and technical diplomas to graduates across the West Georgia region.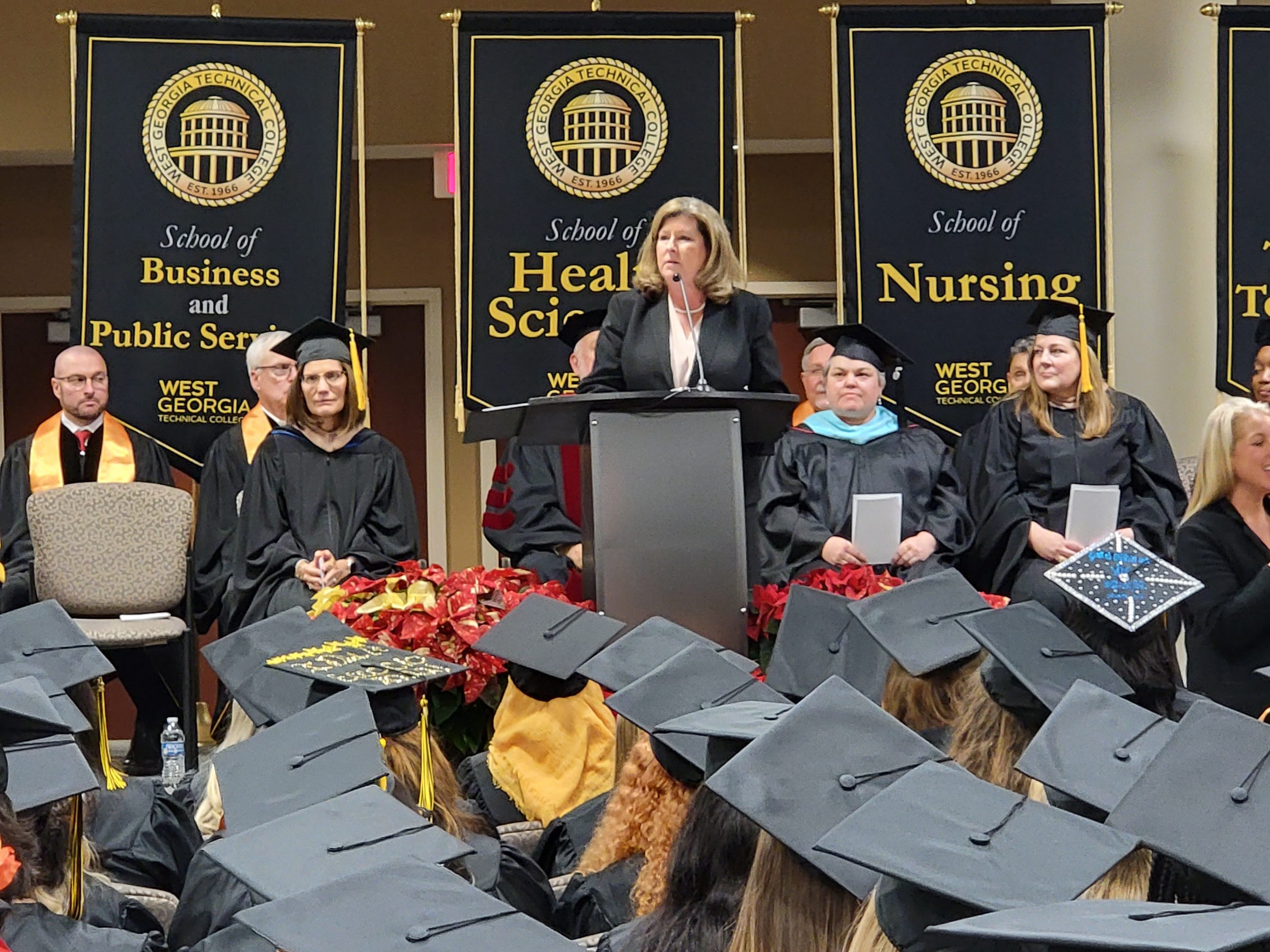 WGTC President Dr. Julie Post welcomed and thanked the graduates before introducing the keynote speaker.
"Graduates, it's your big day," said Post. "I want to personally thank you for not only choosing West Georgia Technical College, but for choosing to persevere and earn the degree of diploma that you have come here to get tonight. We at WGTC are not successful unless you are, and we take joy in celebrating you."
Karen Handel, president and CEO of the Carroll County Chamber of Commerce and Carroll Tomorrow, delivered the keynote address, encouraging graduates to go all in when living life and pursuing their dreams.
"Tonight, you turn the page to the next chapter of your life," Handel said. "My challenge to each one of you is to embark on your future with courage, perseverance, and optimism so that you can reach your fullest potential, overcome the setbacks and failures, have the resiliency to make a new plan when life does bring the unexpected, and to truly find the joy in your journey."
Handel has had a successful career in public service and elected office, having served as Deputy Chief of Staff to Dan and Marilyn Quayle during the Bush-Quayle White House Administration and to Governor Sonny Perdue. Additionally, Handel was elected as Chairman of the Fulton County Board of Commissioners and as Georgia's Secretary of State.
Handel joined the Carroll Chamber of Commerce and Carroll Tomorrow as President and CEO in July 2021. Since joining, she has put her considerable skills and experience to use to attract new businesses, support existing industries, grow jobs and align workforce needs.
The fall commencement ceremony was held at the Conference Center on WGTC's Murphy Campus in Waco to accommodate students and families from all seven counties of WGTC's service area.
West Georgia Technical College, with campuses in Carroll, Coweta, Douglas, Haralson and Troup counties and class sites in Heard and Meriwether counties, offers more than 120 associate degree, diploma and technical certificate programs of study. A unit of the Technical College System of Georgia, West Georgia Tech is one of the largest of the state's 22 technical colleges. For more information, please visit www.westgatech.edu.