CARROLLTON, GA., October 31, 2022 – Six students recently graduated from West Georgia Technical College's (WGTC) Lineman Apprentice Program, a non-credit workforce training program offered by the college's Economic Development Division.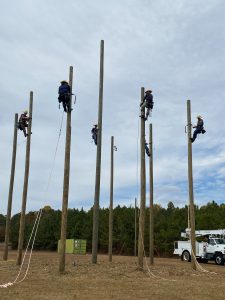 Adam Bailey of Rockmart, GA; Korbin Cauthen of Tallapoosa, GA; Isaiah Gray of Ephesus, GA; Ethan Presnal of Bremen, GA; Brandon Smith of Bremen, GA; and Jake Smith of Wedowee, AL completed the 4-week training program on October 28.
The Apprentice Lineman Program trains students with the necessary skills for entry-level lineman employment including safety, construction, and pole climbing. Additionally, students earn CPR, OSHA 10, DOT flagging credentials and learn soft skills such as interviewing and resume writing.
Three students from this cohort received scholarships to help cover the cost of tuition, books, and other fees associated with the cost of attending the program.
Brandon Smith and Jake Smith each received a Carroll EMC Lineman School Scholarship. Isaiah Gray received a scholarship from Georgia Power.
"We are grateful to Carroll EMC and Georgia Power for providing these scholarships," WGTC Foundation Executive Director Brittney Henderson. "Because of their generous support, students are able to complete their training without incurring any debt."
On the last day of the class, representatives from Carroll EMC, Coweta-Fayette EMC, GreyStone Power, Line Services, and ProSource Utilities came to watch the new apprentice lineman demonstrate their aerial and pole-climbing skills in the training yard and do on-site interviews with the graduates.
The next Apprentice Lineman Program cohorts are scheduled for January and April 2023. A CDL license is required for admission into the program. WGTC conducts both day and evening CDL programs at the Carroll and LaGrange campuses. For more information about the Apprentice Lineman Program, contact Linda Sullivan at linda.sullivan@westgatech.edu or 678-664-0516.
West Georgia Technical College, with campuses in Carroll, Coweta, Douglas, Haralson and Troup counties and class sites in Heard and Meriwether counties, offers more than 120 associate degree, diploma and technical certificate programs of study. A unit of the Technical College System of Georgia, West Georgia Tech is one of the largest of the state's 22 technical colleges. For more information, please visit www.westgatech.edu.