May 31, 2023
WGTC Concludes Tenth Law Enforcement Phlebotomy Course, Equipping Officers with Essential Medical Skills
CARROLLTON, GA – The Georgia Public Safety Training Center (GPSTC) in cooperation with West Georgia Technical College (WGTC) and the Governor's Office of Highway Safety (GOHS) recently completed their tenth Law Enforcement Phlebotomy Course. Since its inception in October of 2021, the program has trained 153 law enforcement officers, representing 68 different agencies, to be phlebotomists.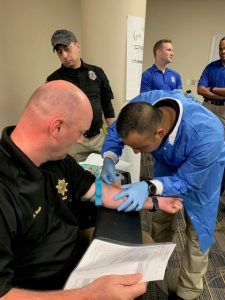 Officers participating in the phlebotomy program undergo 10 hours of online training and 32 hours of classroom training. The Georgia Public Safety Training Center oversees the training program, and Dr. Phyllis Ingham, Program Director for Medical Laboratory Technology and Phlebotomy at WGTC provides all of the phlebotomy training. Upon successfully completing the training program, the officers have the same qualifications as phlebotomists who work in hospitals, doctor's offices, and other licensed medical facilities in Georgia.
"It is an honor to be
selected to be a small part of this West Georgia Technical College community partnership assisting the state of Georgia and the law enforcement agencies in keeping our roadways a safer place to travel by removing impaired individuals from driving under the influence," Ingham said. "We now have over 150 qualified law enforcement phlebotomists in the state with more than 2000 blood draws and a 94% success rate in the field even with the difficult cases and bad veins they encounter."
Training officers to become qualified phlebotomists assists in the prosecution of DUI cases with the inclusion of critical toxicology evidence at trial. Obtaining the blood evidence sooner in the investigative process provides a more accurate measure of the blood content of a suspected impaired driver, and not having to wait for a blood test to be performed by a third party allows officers to return to their patrol duties, GOHS said.
"No doubt this training has saved countless lives and strengthened impaired driving cases throughout Georgia," said Michael Blute, Drug Recognition Expert (DRE) Program Coordinator and Law Enforcement Phlebotomy Coordinator for GOHS. "The partnerships of the three agencies are vital to continuing the program in the coming years."
West Georgia Technical College, with campuses in Carroll, Coweta, Douglas, Haralson, and Troup counties and class sites in Heard and Meriwether counties, offers more than 120 associate degree, diploma, and technical certificate programs of study. A unit of the Technical College System of Georgia, West Georgia Tech is one of the largest of the state's 22 technical colleges. For more information, please visit www.westgatech.edu.