WGTC Receives $100,000 from Carroll EMC to Support CDL Program
June 6, 2023
CARROLLTON, GA – West Georgia Technical College (WGTC) and Carroll Electric Membership Cooperative (EMC) recently celebrated the unveiling of the Carroll EMC Commercial Driver's License (CDL) Canopy at the College's new Carroll Campus. The canopy was funded in part by Carroll EMC's $100,000 donation to the WGTC Foundation.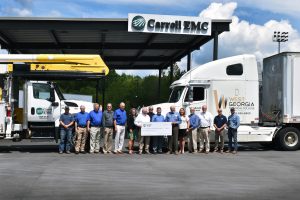 "We are extremely grateful for the generous support of Carroll EMC," said WGTC Foundation Executive Director, Brittney Henderson. "This donation will have a lasting impact on our CDL program, allowing us to provide enhanced training opportunities and ensure our students receive the best possible education."
The canopy was included in the initial CDL range design but was cut due to a lack of funding. WGTC President, Dr. Julie Post, was adamant that the College's CDL students have protection from the elements.
"Our job is to provide industry-relevant training opportunities while ensuring the safety of our students," Post said. "The Carroll EMC CDL Canopy provides a covered training area that allows students to practice and refine their skills regardless of weather conditions, ensuring uninterrupted progress toward their career goals in a safe environment. We are grateful for the support of Carroll EMC in making this canopy a reality."
The partnership between WGTC and Carroll EMC showcases the commitment to education and safety but also serves as a testament to the power of partnerships in advancing the community's educational landscape.
"We are fortunate to have WGTC in our backyard," said Tim Martin, President and CEO for Carroll EMC. "It is through their training programs that we are able to build up a well-educated and top-quality workforce with a number of technical and administrative skills. We support the continued development of WGTC as it benefits the cooperative and our Members."
The Commercial Driving – Class A certificate program provides basic training in the principles and skills of commercial truck operation. For more information, contact CDL program director Joe Holvey at Joe.Holvey@westgatech.edu.
West Georgia Technical College, with campuses in Carroll, Coweta, Douglas, Haralson, and Troup counties and class sites in Heard and Meriwether counties, offers more than 120 associate degree, diploma, and technical certificate programs of study. A unit of the Technical College System of Georgia, West Georgia Tech is one of the largest of the state's 22 technical colleges. For more information, please visit www.westgatech.edu.
Carroll EMC is a Member-owned cooperative providing electricity to approximately 54,000 homes and businesses. The co-op serves Members in Carroll, Haralson, Heard, Paulding, Polk, Floyd and Troup counties. This institution is an equal opportunity provider and employer. For more information visit the cooperative's website at carrollemc.com or follow Carroll EMC on Facebook, Twitter, YouTube, Instagram and LinkedIn. Carroll EMC: Community Built. Community Builder.