Carrollton, Ga., March 31, 2023 – West Georgia Technical College (WGTC) is hosting four "West Georgia Tech Night" events during the month of April. The events will take place from 4 p.m.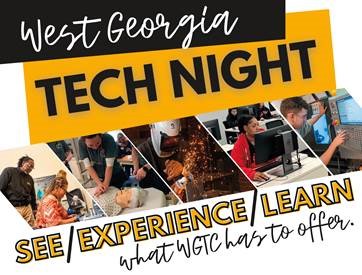 – 7 p.m. on the following days: April 13 at the Douglas and LaGrange campuses; April 18 at the Carroll campus; and April 25 at the Coweta campus. There is no cost to attend.
Come to one or all four events to see, experience, and learn what WGTC offers through interactive program table displays, lab demonstrations, and tours with WGTC faculty and staff. Representatives from admissions, financial aid, and adult education will also be available to answer questions.
WGTC will waive the $25 application fee for those who apply for admission at any of the West Georgia Tech Night events. Attendees who visit multiple programs and demonstrations will be entered into a drawing for an Amazon gift card.
For more information about West Georgia Tech Night, please contact WGTC's admissions department at admissions@westgatech.edu.
West Georgia Technical College, with campuses in Carroll, Coweta, Douglas, Haralson and Troup counties and class sites in Heard and Meriwether counties, offers more than 120 associate degree, diploma, and technical certificate programs of study. A unit of the Technical College System of Georgia, West Georgia Tech is one of the largest of the state's 22 technical colleges. For more information, please visit westgatech.edu.